A Fun Family Experience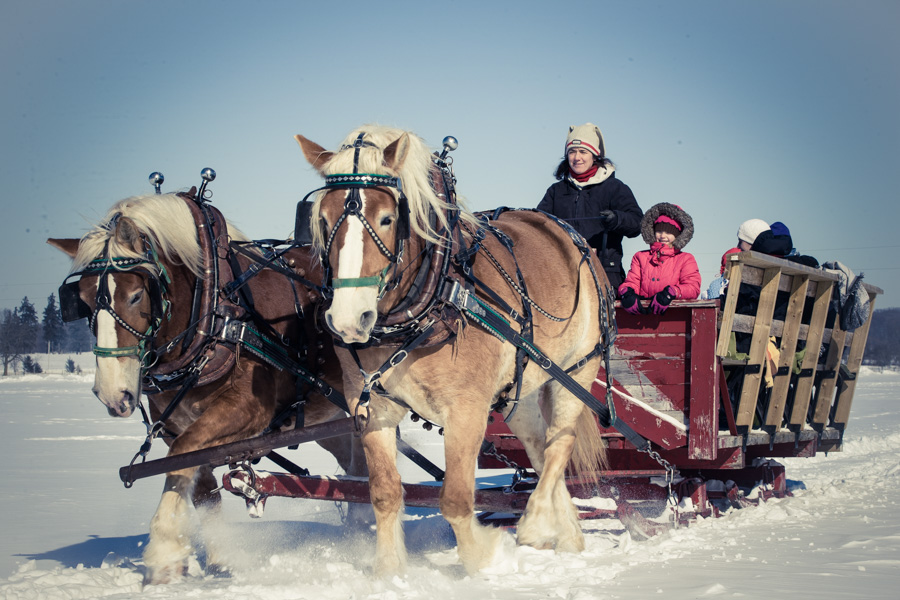 The ride is pulled by two Belgian horses who readily welcome attention and treats. If there is enough snow they pull a sleigh, otherwise, they pull a wagon. The ride lasts up to 1 hour and travels around our 100 acre farm. We pass through field, bush, along the beautiful Nith River. You are welcome to stop along the way for pictures, to explore the woods or to throw a snowball. Your tour ends when your group desires. Upon completion of your ride, you are welcome to come into the barn and see the working farm.
The sleigh holds up to 12 adults, with kids on laps added to that number. The cost per sleigh is $125 tax included.
** February Valentine's Ride Special – February Valentine's Special… $80 per couple for a private sleigh ride, blankets provided. Ride last 20-25 minutes, bookings essential. Weekday, weeknight or weekend times available.
If the weather turns to rain or freezing rain, we will call to cancel or reschedule as it suits you. If YOU need to cancel for any reason, please call no later than 2 hours before your scheduled ride.
A rustic stone building, "The Piggery" has been newly renovated and is available for rent to host your gathering. The room is 30 ft x 19 ft and contains a woodstove to warm you up after the ride, a bathroom, large table and chairs and a countertop space with outlets for you to plug in your crockpot before the ride. The cost for the room is $45 tax included. You are welcome to bring food and drinks into the room. If you are looking to order pizza, may I recommend Plattsville Pizza (519-684-7333), which is only a 3 km drive away.
GIFT CERTIFICATES are also available and great for Christmas.