Let's Have A Party…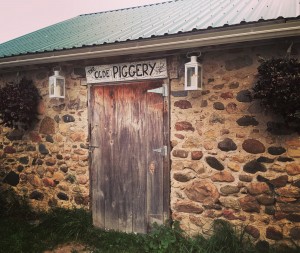 Looking for a unique place to host a birthday party? Want to experience something different with your friends and family this year? Riverbend Acres offers just what you need for unforgettable birthday parties.
A relaxed horse drawn wagon or sleigh ride around our beautiful rural property

Photo opportunities with our farm animals

Create priceless memories together
From the moment of arrival, your guests will appreciate the exceptional setting of a farm birthday party – relaxed, friendly, and fun. Enjoy your horse drawn wagon ride or sleigh ride and explore the barn to visit our livestock.
During your interactive visit through the barn you can see the animals — sheep and goats, horses, cattle, chickens and ducks, and our miniature donkey. You are welcome to bring fruit and veggie scraps to feed them, with our assistance.
The Olde Piggery is available to host your celebration after the ride.   Set up your decorations before the ride, and have usage for 2 hours afterwards. The Olde Piggery contains a washroom, kettle, outlets to plug in crock pots, and a wood stove to keep you warm. The room is approx 15'x24′.
The birthday party package, including 12 people on wagon ride, barn tour with animal visit, and The Olde Piggery usage for your party room, is $225 tax included.
If you have a larger group, we can do two rides, while you have the party room for 4 hours.  The cost is $390.
What a great place to bring your party enjoying the outdoors.  Visit our photo gallery for more pictures of the horse-drawn wagon and our farm.
If you are looking to enjoy food after the ride, or bring take out to The Olde Piggery, I recommend Andy's Pizza, Trails Edge Tavern, or Shakers Restaurant, which are only a 3 km drive away in the small town of Plattsville.  Please contact them for their hours of operation.