Let's Have A Party…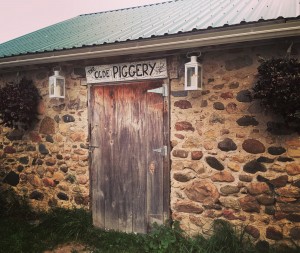 Looking for a unique place to host a birthday party? Want to experience something different with your friends and family this year? The Olde Piggery and Riverbend Acres offer just what you need for unforgettable birthday parties.
A relaxed horse drawn wagon or sleigh ride around our beautiful rural property

Private, comfortable party room for you and your guests

Visit with our farm animals

Create priceless memories together
From the moment of arrival your guests will appreciate the exceptional setting of a farm birthday party – relaxed, friendly and fun. Enjoy your horse drawn wagon ride or sleigh ride, explore the barn to visit our livestock, and spend time inside "The Olde Piggery" (our party room).
During your interactive visit through the barn you can see the animals — sheep and goats, horses, cattle, pigs and chickens. You are welcome to bring fruit and veggie scraps to feed them, with our assistance.
Decorate the Olde Piggery with your own flair for a personalized birthday party. The comfortably sized space – 24 feet long by 14 feet wide – is available upon your arrival, and is equipped with a bathroom. Our farm birthday party package includes exclusive use of the Olde Piggery to relax and enjoy for 3 hours after your ride.
What a great place to bring your party, have fun and leave the garbage behind. Visit our photo gallery for more pictures of the horse drawn wagon and inside The Olde Piggery.
The birthday party package is $200 tax included.
If you are looking to order food, may I recommend Plattsville Pizza or Trails Edge Tavern, which are only a 3 km drive away.